For the first weekend in March, we had some amazingly clear weather last weekend. It gave me an opportunity to take some friends on a couple trips over San Francisco in what is commonly referred to as the "Bay Tour". When I got back into flying a few years ago, I was eager to fly the Bay Tour. Unfortunately, most of the information I found online talked about how incredible the flight was rather than more practical information about what to expect as a pilot. Having now flown dozens of Bay Tours out of San Carlos (SQL), I thought it would be a good time to share my perspective and experiences.
Let me start by saying that I'm not a flight instructor. If you are a pilot, please remember that as pilot in command, you are always responsible for your safety. If you're a new pilot, unfamiliar with the area or not accustomed to talking on the radio, you may want to consider picking up a flight instructor at one of the training centers in the area. You will be flying through Class B airspace with several areas of Class C and Class D airspace, the airspace and frequencies are busy.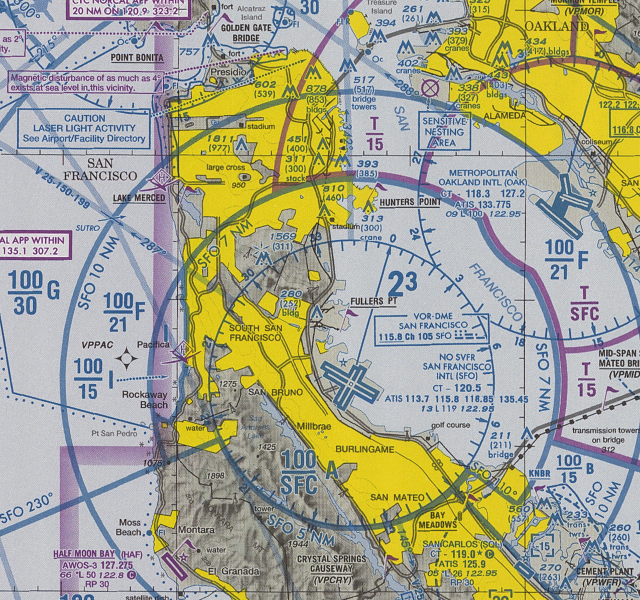 You'll want to have a current copy of the San Francisco Terminal Area Chart (TAC) to review on the ground and while you're on the tour. San Francisco's Class B airspace is pretty chopped up with varying floors to make room for other airports in the area. Make sure you know how to stay out of Bravo when you're told. This post assumes you'll be departing from SQL but much of the information is the same if you'll be flying out of Palo Alto (PAO), Half Moon Bay (HAF) or other airports in the area.
In preparing for a Bay Tour flight, my first step involves checking the weather. Aside from the obvious aviation weather sources, I take a look at the web cams for San Carlos and Half Moon Bay airports found on the San Carlos Airport Association website. My personal minimums require that I be able to see Ocean Beach, Crissy Field, Marina Green and Highway 101 while I'm on the tour. The Bay Tour takes you over densely populated areas with few places to land if something goes wrong so I like to make sure I'll be able to see those few places that could work in a pinch. I check the weather at Half Moon Bay because I may need to approach San Francisco from the coast if things are busy at SFO and sometimes I like to extend the tour down the coast. Once I've confirmed the weather will be acceptable, I pick up my passengers and we make the short drive down to the San Carlos Airport.
After pre-flighting the aircraft, it's time to brief the passengers. Every pilot has their own briefing procedures but there are a few things to consider before leaving for a Bay Tour. You will be talking to controllers frequently so your passengers should be familiar with the concept of a "sterile cockpit" and remain quiet not only while in the terminal area but also while you transition the Bravo airspace on your way to San Francisco. I have an isolation switch that allows me to isolate my headset so my passengers are free to talk to each other. If you have one, make sure you know how to use it because it can be very handy. I also talk to my passengers about the best way to point out other aircraft so they can act as another set of eyes.
With my passengers on-board and the engine started, it's time to pick up the ATIS (125.9 at SQL). Winds will typically favor 30 but if it's calm, 12 will be used for noise abatement.  You'll want to familiarize yourself with the noise abatement procedures at San Carlos, they're not particularly onerous and you will need to specify your type of noise abatement departure when you request your clearance. As you're listening to ATIS, you may hear the following remark:
San Francisco is not accepting Bravo transitions at this time.
Make note of it but don't scrub your plans for a Bay Tour just yet. The controllers at San Carlos can usually hand you off directly to San Francisco tower. If San Francisco is particularly busy you'll hear that remark on ATIS and you'll need to approach the Bay Tour from a different point. Assuming you haven't heard that remark, you'll want to call up ground control and request your clearance. If 30 is favored, my request may sound something like:
San Carlos ground, Skylane 96988 at bravo parking requesting taxi to runway 30 for a Bay Meadows departure with charlie and if able a squawk code for a bay tour.
If 12 is the favored runway you'll want to request a "left downwind" departure. I've had a few controllers call this a "Bay Meadows" departure but I've never seen it document that way so if asked for clarification I will say "left downwind departure toward Bay Meadows." As a reminder for departures off runway 12, the noise abatement procedure requests a turn to 100° as soon as it is safe and you're past the departure end of the runway.
Ground control will typically call back with taxi instructions followed by "on request" indicating they're working with San Francisco tower to get your squawk code. Have your pencil ready, they'll usually have the code for you before you make it to the run-up area.  It has only happened to me once but don't be too surprised if ground control is unable to get you a code due to San Francisco being too busy even if there were no remarks indicating so on ATIS.  It's possible they didn't have a chance to update ATIS with the latest information. If ground control is unable to give you a code, you'll still want to request a Bay Meadows or a left downwind departure depending on the favored runway. Just keep your transponder set to 1200 for the time being.
If you're not familiar with the Bay Area or are new to the area, the Bay Meadows departure can be a little confusing. On the noise abatement procedures chart it shows up as a horse race track but they tore that down a few years ago and all we're left with is a big patch of dirt slowly filling up with buildings. Coming from San Carlos, you'll want to stay on the east side of Highway 101 until you come to Hillsdale Boulevard and then make a left turn to head west, crossing over 101 between Hillsdale and Route 92.  Route 92 is fairly visible since it has the bridge that crosses the bay. Having a look at Google Maps helps a bit.

If you've been given a squawk code, you'll also be told to expect San Francisco tower on 120.5. I would put that in your stand-by frequency since you'll be getting close to the bravo airspace when you get the handoff and you can't enter bravo until you have been cleared to do so by San Francisco tower. Once you do get the handoff you'll want to check in with San Francisco tower as quickly as possible. This can be difficult on days when there's a lot of commercial traffic. San Carlos has already told San Francisco tower you'll be on a Bay Tour so I like to keep my check in short.
San Francisco tower, Skylane 96988 with you off San Carlos.
If you don't get an immediate response or if you haven't been able to check in, you might want to start to circle over the old Bay Meadows race track to avoid breaching bravo airspace. When you do get the clearance back from San Francisco, you can expect something like:
November 96988 cleared through bravo, remain south and west of the Bayshore Freeway at or below 2000 feet.
Once you've received it, don't forget to read back your bravo clearance. You may be wondering where the "Bayshore Freeway" is. Well, I had lived here for 10 years and didn't realize Highway 101 is also called the Bayshore Freeway until I started flying. I speculate that the controllers hesitate using highway numbers where possible to avoid confusion with tail numbers.
At this point you can hug the left side of the Bayshore Freeway and follow it up around San Bruno mountain and Candlestick Park to enter the city but I prefer to follow Interstate 280 toward Daly City and the ocean. Either way works but I typically return to San Carlos along the Bayshore Freeway so I like to head out to the ocean first.
When I'm unable to get a squawk code on the ground at San Carlos my plan B still has me making a Bay Meadows departure but I keep heading west toward the Pacific Ocean and Half Moon Bay. The floor of bravo in that area is 4000' so I like to climb to 3500'. As I cross Crystal Springs, I'll make some clearing turns to keep an eye out for traffic heading east out of HAF. If you or your passengers haven't seen it, there is some amazing coastline in the area and I highly recommend heading south to at least Pigeon Point to check it out.
Once you're ready to start your Bay Tour, call up Norcal on 135.1 and be prepared to give them your location relative HAF or the Woodside (OSI) VOR.  I tend to first call with "Norcal approach, Skylane 96988 with a request"  and once I get the "go ahead" I'll call back with:
Norcal approach, Skylane 96988 is a Cessna 182 slant Gulf presently one zero miles south of the Half Moon Bay airport requesting a bravo transition along the coast at 3500' for a Bay Tour.
Norcal will typically give you a squawk code, confirm your altitude and your location and that's about all. After punching in the code, I'll keep motoring toward the city staying under the 4000' bravo shelf. It's important to note that you have not been cleared through the bravo at this point. While you could conceivably drop down below 2000' and head out over the Pacific, that takes me out of my comfort zone so I like to go through the bravo at 3500'.  If I don't receive clearance through the bravo a few miles before reaching it, I'll call up Norcal again to request the clearance.
Coming up the coast into the city you'll pass the new Devil's Slide tunnel (still being worked on as of this writing) and the sleepy little town of Pacifica before you catch up to Daly City. While checking out the sights, don't forget to maintain your assigned altitude. On one flight I was assigned an altitude of 5000' and requested a VFR descent to 2000' but the controller kept me at 5000' due to "a Super Airbus restricted below me at 4000'."  At the time I didn't realize a "Super Airbus" was an A380 and was more than a little surprised when I saw it climbing behind me knowing that it had just been restricted below me!
On the San Francisco TAC, both of the Bay Tour approaches I describe converge a few miles south of the Lake Merced visual waypoint. At this point I like to descend down to 2000' to afford my passengers a closer view of the city. Once cleared for the descent, approach control will typically let you know you are about to leave bravo airspace and hand you off to another controller on 127.0.
November 96988, leaving bravo airspace in 2 miles, once outside the bravo remain clear of the bravo. Contact Norcal approach on 127.0
Once you check in on 127.0, the controller will give you an update on the traffic situation and possibly advise of further restrictions to your flight.
November 96988 remain north and west of the Bay Bridge and Bayshore Freeway at all times at or below 2000'.  Use caution, multiple targets in the vicinity of the Golden Gate Bridge.
If they're not on yet, I'll turn on my strobes and landing light to make myself more visible. I also like to slow things down a bit so I'll drop 10° of flaps and pull back the power so I'm cruising around 90 KIAS.
I admit that I'm a bit of a tease. I know the thing everyone wants to see is the Golden Gate Bridge and I could easily follow the coast line all the way up and approach it from the west but I like to save it and approach from the east. Coming up along the beach, I'll make a right turn to stay on the north side of Golden Gate park so my passengers get the best view from the right side. The living roof at California Academy of Sciences is particularly impressive from the air. This direction also provides a great view of Sutro Tower while keeping you well clear of it.

Once I reach the end of the Panhandle, I'll begin a left turn so passengers can get a good view of downtown and the Bay Bridge. Once my nose is a bit left of Alcatraz I'll straighten out and head in that direction. If my passengers are up for it, I'll perform a steep turn over Alcatraz for the top down view. If they're not up for it, I'll widen out the turn but still make a full circle over the island. If you plan to go a little further and circle Angel Island, you may want to let the controller know your plan so they won't try to hand you off to someone else.
Coming around Alcatraz, I'll roll out with my nose pointed just to the left of the Presidio and head in that direction for the main attraction. In this direction, the Marin Headlands act as picturesque backdrop for the Golden Gate Bridge. Once I pass the south end of the bridge, I'll turn to the north keeping the bridge off my right wing. Depending on what people are interested in, I'll sometimes turn left along the Marin coastline toward Point Bonita before turning back to the north end of the bridge.
Heading south along the eastern side of the Golden Gate bridge is where the scripted portion of my Bay Tour ends. At this point I may fly over someone's house, check out Land's End, or go to one of the landmarks we might have missed due to conflicting traffic.
Once I'm ready to head back to San Carlos, I'll get the latest ATIS using my second radio so I can stay in touch with approach control. Once I have ATIS, I'll call up approach and let them know I want to head back to San Carlos along the Bayshore Freeway:
Norcal Approach, Skylane 96988 would like to head back to San Carlos along the Bayshore Freeway and we have tango.
Norcal will typically provide provide the following bravo clearance.
November 96988 is cleared through bravo airspace at or below 2000', keep the Bayshore Freeway off your left side.
As you approach Candlestick Park you'll be handed off to San Francisco tower. San Francisco may tell you to hold over Candlestick Park for departing traffic and you may be there for five to ten minutes depending on traffic.

As you make your way along the Bayshore Freeway to San Carlos, San Francisco tower will want you to keep your speed up. Once I'm cleared through the bravo I tend to raise my flaps and increase my power so I can quickly get out their hair.  With other VFR traffic using the same corridor (probably going on a Bay Tour too), you may need to drop to 1500'.
As you pass the southern end of SFO, tower will terminate radar services and hand you off to San Carlos tower.
November 96988, leaving bravo airspace in 2 miles, radar services terminated, remain on this beacon code, contact San Carlos tower on 119.0.
Even though you hear "radar services terminated" you'll want to keep your current transponder setting. San Carlos tower receives a radar feed and wants you to stay on your present beacon code. Once you call up San Carlos, they'll work you into the pattern.  With winds generally favoring 30, you'll usually be told to "cross overhead midfield at or above 1200' and make right traffic for 30." Stay on the west side of the Bayshore Freeway until you're ready to cross mid-field. If 12 is favored you may get a straight in approach or you may need to cross midfield and make left traffic for 12.
And there you have it. Every flight offers its own challenges but if you're like me, you'll never grow tired of the Bay Tour. Maybe one of your friends will make a video for you too!